Description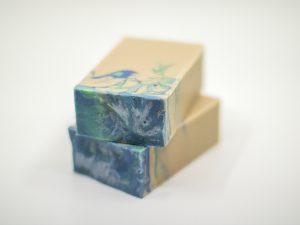 When you combine warm sand and late-afternoon sun—and how it relaxes every ounce of your being—this is how this soap smells.  Citron, rich patchouli, soft jasmine, cinnamon spice and bright carnation are fused with nuances of golden amber musk, clove bud, myrrh, and evergreen forest.  A unique, dense and intoxicating soap enriched with nourishing sea clay.
Our cold process soaps are uniquely hand-crafted —no two are the same!  We use a  combination of food-grade oils and butters to create a luxurious soap that lathers gloriously and smells divine.  We are committed to using sustainable ingredients in our product formulations, as well as  refraining from using parabens, phthalates, artificial foaming agents and preservatives.  
Ingredients:  Distilled water, olive oil, coconut oil, palm oil (sustainable), sodium hydroxide, shea butter, avocado oil, castor oil, fragrance, Dead Sea clay, mica (for color), titanium dioxide.